DSPD would like to introduce you to the graduates of our first 2014 Reserve Academy. These officers have gone through approximately 6 months of rigorous training and generously volunteer their time every month to help our department keep the city safe. We are truly grateful for their service and dedication.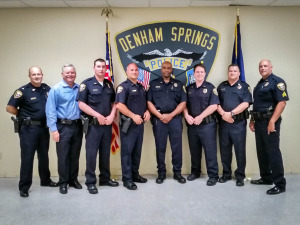 Pictured from left to right are Lieutenant Shannon Womack, Chief Scott Jones,
Reserve Officers: Ethan Lott, Brian Roy, Eddie Kay, Jordan Baronich, Brian Zganjar,
and Lieutenant Patrick Knab.