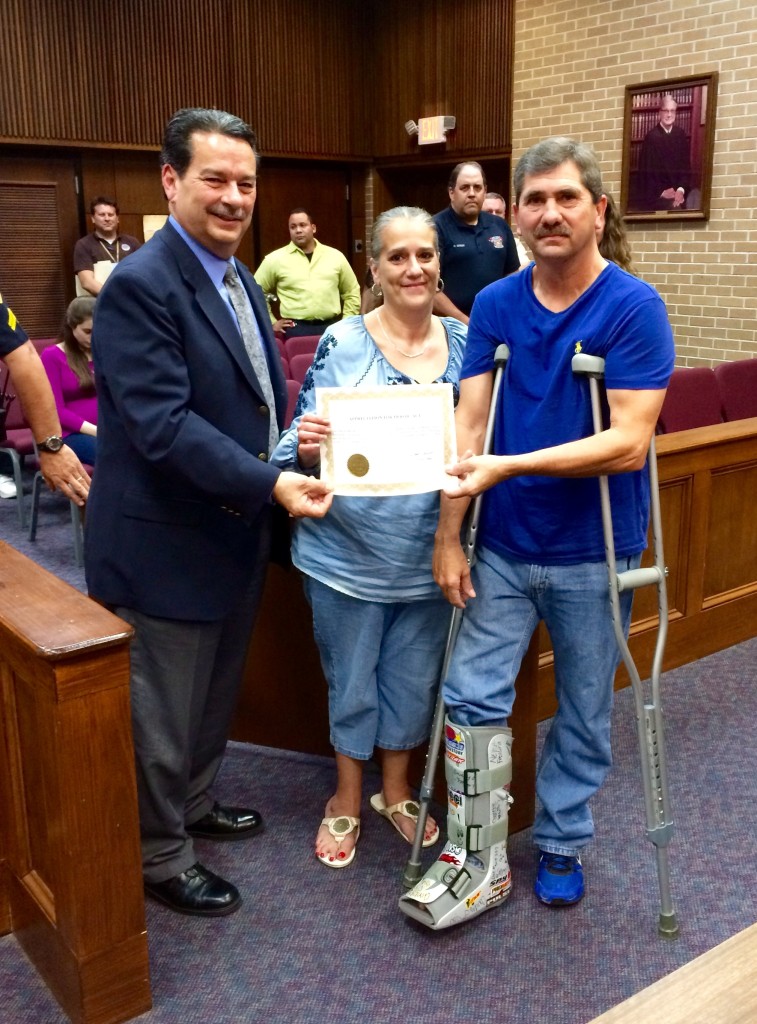 (photo courtesy of John Dupont, Livingston Parish News)
On Tuesday, the Denham Springs City Council and Mayor Gerard Landry honored Gordon Simoneaux for his efforts in assisting the Denham Springs Police Department apprehend a fleeing suspect.  The incident occurred at a local hotel on March 12th, where Mr. Simoneaux and his daughter were attending a birthday party.  Police Officer Alexander was on scene handling another matter when she was notified of what appeared to be a highly intoxicated man inside a vehicle in the parking lot.  As soon as the officer approached the man and begin to question him, the suspect fled on foot.  Mr. Simoneaux witnessed the events unfolding, stepped in and tackled the subject as he ran by.  A struggle ensued, in which the suspect landed on top of the officer and attempted to disarm her of her duty weapon.  Mr. Simoneaux and another bystander assisted the officer in subduing and handcuffing the subject.   During this time, Mr. Simoneaux's suffered an ankle injury, which later required extensive surgery to repair.
Gordon Simoneaux was employed as a gravel-truck driver and has been unable to work since the incident.   Mayor Landry, recognizing Simoneaux's bravery and willingness to help an officer in trouble, has reached out, calling upon citizens of our city to help this Good Samaritan.  "Help us, help him.  Together we can make a difference."  Even the smallest of donations will help.  The City of Denham Springs has partnered with Friends of the Denham Springs Police in an effort to raise funds for Mr. Simoneaux while he is unable to work.   Friends of the Denham Springs Police will be accepting donations at First Guaranty Bank in the name of Gordon Simoneaux.
Donations can also be made at his GoFundMe page here:  https://www.gofundme.com/rpwb788k